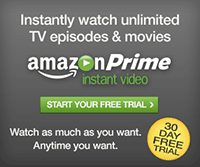 Ever since Amazon introduced Amazon Prime in 2005, the service has undergone a number of major improvements. Initially a free shipping program for customers who ordered physical products, Amazon Prime now includes Amazon Instant Video, the company's streaming video service that competes with Netflix and Hulu. If you are a regular Amazon customer, joining Amazon Prime is a smart choice that allows you to save money on shipping and receive a top-notch streaming service, among other benefits. Use the Amazon Prime free trial offer below to try out this service for 30 days.
About the Amazon Prime and Amazon Instant Video Free Trial

When you join Amazon Prime, you receive Amazon Instant Video automatically, and vice versa. The free trial lasts for 30 days, and after that, your card will be charged a fee for $99 a year. This works out to $8.25 a month, which is slightly more than Netflix ($7.99 a month), however, you do get free 2-day priority shipping on everything you buy at Amazon once you have a Prime membership. All things considered, Amazon Prime gives you more bang for your buck compared to other online streaming services.
If you forget to cancel your 30-day trial and are charged $99, just contact Amazon in a timely manner. They are usually pretty good about reversing charges if you did not intend to get the membership after the trial period.
Amazon Instant Video Benefits
Watch thousands of movies and TV shows, including new releases as well as classics.
Share your membership with other members of the household (on up to 4 different devices).
Watch streaming content on a wide variety of devices including smartphones, Kindle Fire and other tablet PCs.
Get free 2-day priority shipping on products you buy at Amazon.
Gain access to a free Kindle Library.
Listen to over a million songs without ads using Amazon Prime Playlist.

You will find that there is a lot of overlap between the content on Amazon Instant Video and other streaming services such as Netflix and Hulu. If you are interested in original programming, Netflix by far has the largest selection, including many hit shows such as "Orange is the New Black" and "House of Cards." Amazon Prime is adding its own collection of orginal shows, but their selection is very small compared to what Netflix offers.
Decision Guide: Amazon Prime Vs. Netflix
Both Amazon Prime and Netflix have their own pros and cons, and ultimately, which one you sign up for depends on what is most important to you. Below are some guidelines to help you choose.
Choose Netflix if:
Your primary interest is watching movies and TV shows.
You are interested in original programming.
You want the largest library of streaming content.
Choose Amazon Prime if:
You are a regular Amazon customer.
You own a Kindle device and order a lot of ebooks.
Another option is to try the free trials of both products. Both the Netflix and Amazon Prime free trial lasts for 30 days, giving you plenty of time to kick the tires and see which service suits you best.
Related Offers: Gamefly Free Trial