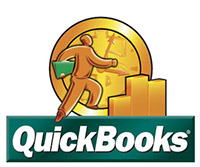 If you are looking for a great accounting program to use for small to medium businesses, QuickBooks should be one of your top choices. In addition to being highly affordable, QuickBooks is widely acclaimed for being a powerful program that can handle all major accounting tasks with ease, including inventory management, depreciation, and payroll. Recently, QuickBooks has become available as a cloud-based solution that you can use by paying a modest monthly fee. To test drive the online version, simply click the link below:
About QuickBooks Online

Many major software vendors such as Adobe and Microsoft have begun offering their products online through cloud-based services. Compared to the boxed version of the software, QuickBooks online offers quite a few distinct advantages:
Your software will always be up-to-date.
You pay for the service monthly, and can cancel at any time.
You can access the program any time, from any location.
Multiple users are able to access the program simultaneously.
You can download transactions directly from banks and credit card companies.
Currently, there are three subscription levels for the cloud service: Simple Start, Essentials, and Plus. You can compare the features of the different versions of QuickBooks online here. The monthly fee starts at just $12.95.
Boxed versions of software are quickly going out of style, and some software companies such as Adobe have even announced that they will discontinue offering boxed software altogether. Although QuickBooks still offers both a boxed and online version of its software, because of the many advantages of using QuickBooks Online, we encourage you to try out the online service using the free trial offer on this page.
About the QuickBooks Free Trial
You only need to provide basic information such as name and email address to get started using the free trial. No credit card information is needed, and you won't be automatically charged at the end of the trial period. The QuickBooks free trial lasts for 30 days, and at that point, you can subscribe by going to your account page and clicking on the billing info tab. You have the option to pay month to month or on a yearly basis.
Learning QuickBooks
Because QuickBooks is so widely used, you will find plenty of online resources for learning how to use the program. Many of these resources will be free, such as the YouTube video below:
There are also plenty of books and training seminars you can use to learn QuickBooks. However, given that QuickBooks is a relatively straightforward program, if you have some basic accounting knowledge, you probably will not need too much guidance to begin using the program.
Related Offers: TurboTax Free Trial