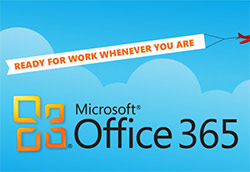 Products such as Microsoft Word, Excel, and PowerPoint have become must-have tools for just about everyone who works in a professional environment. Not long ago, Microsoft launched a cloud service called Office 365, which allows you to use the latest version of Microsoft Office for a modest monthly fee of $9.99 a month or $99.99 per year. For many reasons, we believe this product is superior to prior versions of Microsoft Office. You can try Office 365 for 30 days by using the Microsoft Office free trial below:
More About the Free Trial
The free trial starts when you sign up, and lasts for 30 days. You will not be charged if you cancel before the trial period is up. After the 30 day period is over, you will be billed monthly as long as you continue using the product. You can only get a free trial for Office 365 at this time. No free trials are available for standalone products in the Microsoft Office suite, such as Excel or PowerPoint. With that said, most standalone programs in the Microsoft Office suite cost $109.99. If you purchase an annual subscription to Office 365, you will pay less than this cost and be able to use the following seven programs:
Word
Excel
PowerPoint
OneNote
Outlook
Publisher
Access

Office 365 Benefits
You may have noticed that boxed software is quickly going out of style, as major software companies such as Adobe and Microsoft have begun heavily promoting their cloud services. Software pricing is likewise undergoing a transformation, with monthly subscription services becoming more and more prevalent.
Compared to the boxed versions of Microsoft Office, Office 365 benefits you in a number of ways:
You always have the most up-to-date version of the software.
There is no need to deal with traditional software installation.
Office 365 can be used on up to five PCs or mobile devices.
You receive 20 GB of online storage, which you can access from any location.
You can cancel the subscription at any time.
Final Thoughts
We have tested and used Office 365 for a couple years and have never experienced any problems. The applications seem to load quickly and run faster than traditional software versions. Crashes are very infrequent. On the whole, we were impressed with Office 365 and highly recommend this product.
Related Offers: Try Gamefly Free for 30 Days