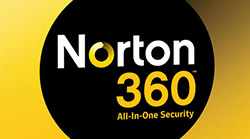 With all the threats that exist online, it is more important than ever to have a top-notch security program running on your computer at all times. Having tested many Internet security programs over the last few years, we can state with confidence that Norton 360 is among the best. In fact, numerous independent tests have confirmed that Norton 360 does a better job of protecting your computer than most of its competitors. To try this program out for yourself, use the Norton 360 free trial offer below:
More About the Free Trial
To use the free trial, you need to download a 200 MB file and install the program on your computer. The download should only take about one minute, provided you have a broadband connection. A setup wizard makes the installation process fast and hassle-free. Unfortunately, if you already have an anti-virus program running on your computer, you may be required to uninstall the program before you can start using Norton 360.
Why You Should Use Norton 360 Over Other Anti-Virus Programs.
Selecting an anti-virus or Internet security product is always a bit tricky because you really have no way to know just how well it will work until you download it and use it for a period of time. In our opinion, the best way to evaluate a program is by reviewing test results that have been conducted by objective third parties. PCMag, for example, runs some extensive tests every year to determine which anti-virus programs are the best. For many years, Norton products have garnered top ratings and made it on the "Editor's Choice" list of this magazine. Therefore, if you don't want to take any chances with your computer, Norton 360 is definitely the product you should choose.
Norton 360 Vs Norton Anti-Virus
People who want to save money may be tempted to choose Norton Anti-Virus instead of Norton 360 because it is slightly cheaper. However, we recommend getting Norton 360 instead because quite frankly, it provides you with a much more comprehensive level of protection. While both programs will do a great job of shielding you from viruses, Norton 360 offers you the following additional benefits:
Identity Protection
This includes things like protecting your passwords and preventing suspicious sites from being able to steal sensitive information from you.


Backup and Restore
Norton 360 will automatically backup important files on your computer and make it possible to restore them quickly if necessary. This feature obviates the need for you to invest in a separate backup program such as Carbonite.


PC Tuneup
The software comes with tools to help you optimize your computer so that it performs faster.
Because of the added benefits, we recommend getting the Norton 360 free trial instead of Norton Anti-Virus. After trying the software and realizing everything it does to keep your computer safe, we think you'll find the slightly higher price to be more than justified.
Related Offers: Gamefly Free Trial Offer